Scary sounding stuff! As if diminished 7th arpeggios weren't evil and twisted sounding enough for you, we're going to combine them with chromatic runs using all 4 fingers. Inspired by Jeff Loomis, these types of insane diminished ideas will force you to re-think what is possible with diminished playing. All the examples in this lesson are based on F# Diminished 7th. Let's Go!
Let's start by looking at the different forms of Diminished 7th Arpeggios. Most of these ideas will use string groups D – G – B and G – B – E. Check out the diagrams below, this will make it more visual and make more sense. Part of the reason these ideas work so well is that we can 'fill in the gaps' in between the minor third interval from our index finger to our pinky on the highest string at the top of each arpeggio. This allows us to play a chromatic run really easily following the diminished arp. On top of this, because the diminished arpeggio inverts in minor thirds, we can blaze through these ideas all over the neck no problem at all by moving each shape a whole step and a half, aka minor thirds.
LEVEL SKIP » JUMP TO SECTION
Use this level skip function to jump to the section of interest.
---

---
Diminished 7th Arpeggio Theory: Ideas for Application
Let's start by understanding the theory behind diminished 7th arpeggios. Knowing the theory behind any type of arpeggio / scale / chord or advanced licks will help you to apply the ideas in your own playing. Understanding how to build and derive these sounds is the key to using and abusing new creative ideas.
The Intervals of Diminished 7th – R, b3, b5, bb7
Diminished 7th chords / arpeggios are formed by stacking four minor third intervals one after the other. This in turn means that every fifth note is the octave of the first. On top of this it also means that any of the notes in the chord / arpeggio can be considered a root note.
Using Diminished 7th Arpeggios to Change Key
Because you now have 4 different notes to choose from, this chord or arpeggio is a super easy way to change key. You can use a diminished chord / arpeggio built from any of the 4 notes in your chosen diminished sequence as a tool to change to a new key. This diminished chord will have a desire to resolve to either a major or minor tonality. Our chart below gives you an idea as to how this works. Example in the key of F#.

For example in the key of G major, you could substitute the standard F# minor7b5 chord for a fully diminished 7th chord which resolves perfectly to G major or G major 7th / 9th etc.

However if you assume that the F# is no longer the root note of the chord or arpeggio, and instead assume the A is now the root, you can then use the same diminished 7th chord / arpeggio to lead nicely into A# Major.

You can use this thinking to work with the other notes of the arpeggio too.
---

---
Where to Find Diminished 7th Arpeggios
As with all arpeggios there's always more than one set of scales from which they can be derived. The first most obvious place you can find these arpeggios is of course from the diminished scale. The next place you can find a naturally occurring diminished 7th arpeggio is within the Harmonic Minor scale and it's respective modes. If you know your scale theory then straight away you'll have a basis for which to apply these ideas.
Since the diminished 7th arpeggio can also be pulled directly from the Phrygian Dominant Mode this means that you could build riffs using this mode and know that any of these dimished ideas will work perfectly over it.

CJ – Strings of Rage
---

---
Diminished 7th Arpeggios: String Groupings for 3 String Arps
String Group: G to E
The first most common string grouping is from the G string to the high E string. This is probably the first shape you'll learn when you venture into the world of diminished sweep picking. If you're not familiar with diminished arpeggios this is a great place to start. If you can get this under your fingers, or if you have this one nailed already then expanding on these ideas should be easy.
String Group: D to B
The next logical step with diminished sweep picking is to look at another string grouping. This might feel weird at first especially if you're only used to 3 and 5 string arpeggios that go up to the high E string.

HEADS UP:
Be aware of the finger change for this string grouping. You'll now be using your middle finger instead of your ring finger to execute this shape.
String Group: A to G
The A to G string set starts to feel a little different to the others. You'll quickly notice we're no longer in the same four fret span. To execute these ones we now need to move across or 'backwards' by a fret when we get to the G string. Take your time with these to master the movement required to pull them off cleanly.
You can continue to take these ideas down as low as your guitar will let you. If you have 7 or even 8 strings you can take these down onto these string sets as well in a 3 string manner.
String Group: E to D
The lower string groups are the same as the A – G string groups. This grouping also moves 'backwards' across the neck. Take it slowly and execute it cleanly.
---

---
Extending Into 5 and 6 String Shapes
You can combine string groups to create your own bigger shapes and extended groupings. Here's a basic one that combines string groups A – G and then G – E. The six string example just takes it down onto the low E by coming down another minor third. Diminished 7th is so easy to plan across the neck since you're just moving in minor third intervals in any direction. The examples in this lesson should ignite many awesome ideas and possibilities.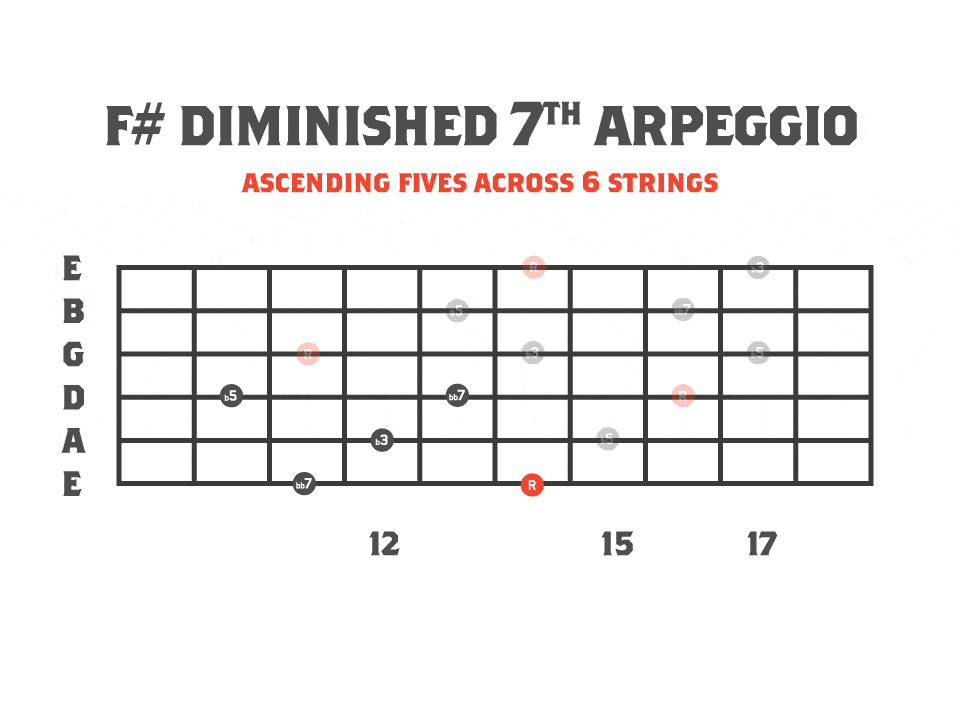 Extended Ideas Using Slides
The two ideas below will need to be executed using slides. What we're doing here is using the first string group to ascend up but then we can slide up a minor third with our index finger to where our pinky was and THEN play the next string grouping. We now start to get some really wild sounding ideas that appear to fly across the neck.
'Reverse' Ideas Using Slides
These reverse ideas are super cool since they go 'backwards' across the neck or towards the head of the guitar. This in itself is quite an unusual way to play, especially for sweep picking. Again we can start by ascending the first A-G string group, however from here we're going to slide DOWN a minor third and THEN play the G-E string group. Again, we get a totally wild sound extended arp but it descends across the neck.
Other Linear Ideas
These are the first most obvious ways to take your diminished arpeggio playing to the next level. Take the two basic shapes from both string groups, D-B and G-E and invert them up and down the neck. You can use note groupings of 5's or 9's to execute these. Patrons can refer to our tab book and guitar pro tab to understand how to play these better.
---

---
Taking Your Diminished Playing to The Next Level
This is where you take your already extreme diminished playing to another level! Let's start adding in chromatic notes in between the highest notes of each arpeggio variation. You can do this with legato or picking techniques, however I personally find this easiest to pick the 4 notes. Picking the chromatics gives you the aggressive attack sound you'd likely want with these types of ideas. Do experiment.
Here's a short clip of Jeff Loomis using these types of ideas in his song "The River Dragon has come" – check out his full lesson here.
Using These Ideas
The trick here is to understand how diminished 7ths work across the neck first. Once you have an arsenal of different diminished 7th ideas under your fingers, adding in chromatics shouldn't be too difficult. It's then just a case of creating your own ideas and sequences that blaze all over the neck, adding in the chromatics where you see fit.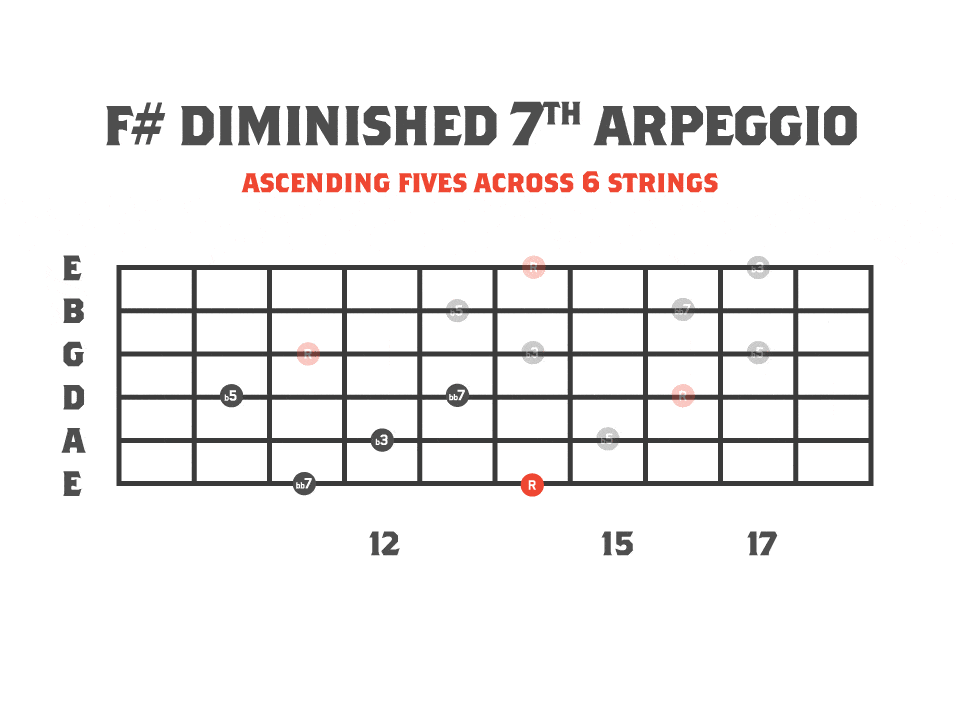 ---

---
Warped 3-1-3 Diminished 7th Chromatic Sequence Insanity!
---
WARNING! NOT FOR THE FAINT OF HEART OR THOSE WITH A PRE EXISTING MEDICAL CONDITION. STRINGS OF RAGE WILL NOT BE HELD ACCOUNTABLE IF THESE LICKS RESULT IN YOUR REQUIRING OF MEDICAL ATTENTION
---
Just for good measure we're going to explore some completely over the top, ear bending concepts that will blow your listeners minds. You can consider these as economy picking ideas since they use a 3-1-3 note sequence across the string groupings. For these two bonus concepts we're going to be adding in a major 2nd interval into the D – G – B string grouping and a minor 2nd interval into the G – B – E string grouping. We do this to make sure the fingering for each string set is the same and therefore becomes easier to blaze through once you get it down. Although we're adding an additional interval into the mix, we're still considering these as a diminished 7th tonality.
---

---
Stage Complete » Patron Only DLC Now Available!
If you've made it this far, well done! We've covered a lot of ideas and concepts here, all within the diminished 7th arpeggio. Patrons can download the Guitar Pro 6 & 7 tablature for all these ideas so you can get a feel for how these should be played.
---
VIDEO FOR THIS LESSON IS IN PROGRESS! STAY TUNED!
---
The diminished returns ebook for this lesson will be available for patrons very soon as well so consider becoming a Strings of Rage syndicate member to get access to all of our unlockables for this lesson and many others.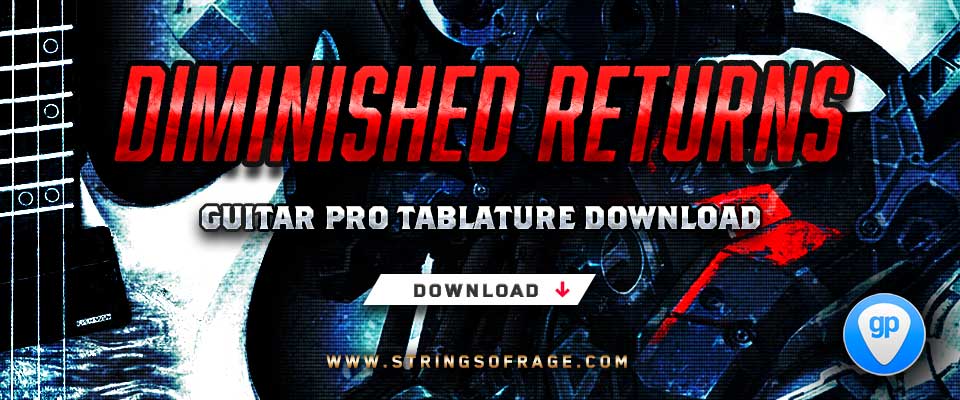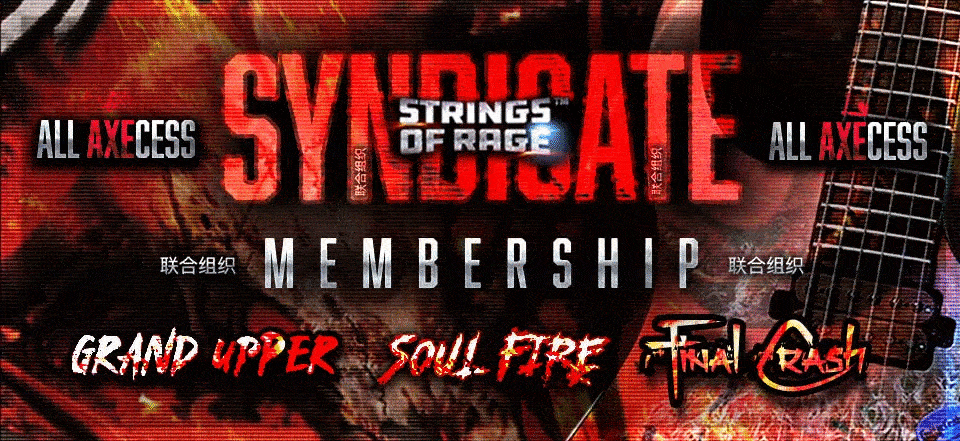 Join The Strings of Rage Syndicate!
Take your guitar playing to the next level. Join the community for exclusive new lessons, ideas and over the top guitar creativity! We look forward to seeing you around!