In this lesson we're going to look at some chord fingerings for seven string guitar in Drop A tuning. To keep things simple we'll look at the shapes from the same root note – A. We'll look at root position chords, inversions and finish with some two handed shapes.
All of these 7 string chords can be moved up the fretboard as Barre Chords so later we'll look at an example of Dm. This will be the Am shape moved up from open position to the 5th fret. Some of these shapes will cover all 7 strings and some will not. However all the shapes will utilize the lowest string (A).

Contents for This Lesson:
Use this level skip function to jump to the 7 String Chords of interest.
---
7 String Chords: What is "Drop A"?
"Drop A" tuning for seven string guitar is similar to "Drop D" on a six string. We take the lowest string, B, and tune it down a whole tone to the note A. This gives us the notes (from lowest to highest pitch):
A – E – A – D – G – B – E
---

---
7 String Chords: Root Position
For the Root position chords we will basically be using the five string chord shapes and adding in the low B and E strings. Later we'll look at inversions and even some chords that require both hands! We'll start with some of the more basic chords for 7 string guitar.
A5 Power Chord
Let's start with the most basic chord type, a Power Chord. Unlike normal chords which contain at least three notes, a power chord only has two. These are the Root note and the 5th. An 'A' powerchord can therefore also be called A5. The notes are A and E. (E is a perfect 5th interval above A. For more on intervals check out this post and also this one).
With Drop A tuning we can add our Low A and E strings to this for a more beefy sound. You can play just the lowest two or three strings on the same fret for power chords in this tuning. Alternatively you can play them across five strings.
A Sus 2
Building on the power chord we can add the B and E strings. Now we have the note B which is a 2nd/9th in relation to A. We also have another 5th (E). This gives us a Sus2 chord. "Sus" is short for "Suspended" and is in reference to the fact that we have suspended the 3rd of the chord, replacing it with the 2nd. The notes of the chord are A – B – E.
Since the Root note is now on the seventh string we could also move A on the fifth string up to B at the second fret.
A Sus 4
Similar to the Sus2 chord a Sus4 chord replaces the 3rd with a 4th. Therefore we get the notes A – D – E.
A minor
Next up is Am, this has a Root, minor 3rd and a Perfect 5th. The m3 of the chord is the note C so we have A – C – E. Again this is the basic five string shape that you probably already know, with the two extra strings added. This makes the low end of the chord more beefy. By taking the 1st. 3rd and 5th notes of a minor scale or mode you will get a minor chord. For example the A Aeolian (Natural minor scale), A Dorian or A Phrygian modes.
You could also experiment with moving the note E on the second fret D string down to an open position. This would now be a D and gives you an Am add11 chord.
Am7
Here we extend the Am chord to include a m7 interval. Now we have Am7. Root, m3, 5 and m7. (A – C – E – G)
For more on 7th chords check out our lesson Lucky Seven's.
A m9
Am9 is the same as Am7 but with an extra note added. A 9th is the same as a 2nd but usually placed in a higher octave than the root note so as not to clash. Unlike a Sus2 chord we still have the minor 3rd and also the minor 7th.
A Major
Amaj has the notes A – C# – E. These are a Root note, Major 3rd and a perfect fifth. A Major chord can be built fromn the Major scale or the Lydian and Mixolydian modes by taking the 1st, 3rd and 5th notes from any one of these modes you get a Major chord.
A Major 7
AMaj7 adds a Major 7th interval to A Major. Iff you are looking at a scale or mode to build the chord from this one would come from A Ionian (The Major Scale) and also A Lydian. You may be thinking "Why not Mixolydian?" since that mode also gives us a Major chord. The reason is that Mixolydian does not contain a Major 7th, it has a minor 7th.
A Major 9
Continuing on from A Major 7 we can add a 9th to create a Major 9 chord.
A7
A7 is a Major triad (A – C# – E) but with a minor 7 added (G). This gives us a Dominant 7 chord which can be derived from the mixolydian mode.
A9
A Dominant 9 is, as you may have guessed, an A7 chord with the 9th added too.
D minor
To illustrate how you can move these shapes up the fretboard her is Dm. This is the same fingering as Am but moved up to the 5th fret. All notes at the 5th fret should be played by barring across this fret with the index finger on your fretboard hand.
---

---
7 String Chords: 2nd Inversion
The following chord fingerings are in 2nd Inversion. This means that the 5th of the chord is the lowest note, rather than having the Root note as the lowest pitch. Strings which don't show a note are to be muted. You can achieve this by allowing part of your finger to rest gently against the string stopping it from sounding out.
Many of these shape will require you to use one or more of your fingers to barre across multiple strings.
A minor
Here is Am, as the 5th is E this will be our "Bass" note. The chord still contains the same notes A – C – E, just with E as the lowest pitch.
The notes at the 5th fret should be played as a Barre with your index finger. Hold the A and D strings with your ring finger and pinky. For the low A use your middle finger and allow it to also touch the E string to mute it.
Am7
Am9
Am11
Am11 is the same as Am7 but with an 11th added, you can also include the 9th but this is optional.
A Major
AMaj is a little tricky. If you play it the same way as the Am but move the m3 up to a Maj3 then you don't have enough fingers to play the notes on the B and High E strings. You may find you can mute both the low E string and the higher of the A strings in order to add these notes on top so feel free to experiment.
A Major 7
This is another tricky one. if you barrre at the 7th fret and use your middle finger to mute the E string then you can use your pinky or ring and pinky combined to play the three highest strings.
A Major 9
A Major 11
Similar to the Am11 the AMaj11 take the AMaj7 chord and adds an 11th. The 9th is optional.
A7
A9
A11
A11, you guessed it! Take A7 and add the 11th! You can also omit the 7th and have R, 3, 5, 11. However, this would be A(Add11) rather than A11. "Add" chords have extensions like a 9th or 11th but no 7th.
A minor (Major 7)
This is an interesting one which can be derived from the Harmonic minor scale. Am(Maj7) is a minor chord triad with a Major 7th added on. This chord has quite a mysterious sound and is generally best used as a passing chord. It also makes a great arpeggio!
---

---
7 String Chords: 4 String Shapes
Here are a few shapes that use just the lowest four strings that wouldn't be possible without the Drop tuning.
A minor
A Major
A Sus 4
A Sus 2
---

---
7 String Chords: Two Hand Tapped Shapes
The following shapes require too many fingers or wide stretches. Therefore, it is necessary to play them using both hands. The index finger or middle finger on your picking hand can be used to tap the 3 lowest strings. This may be slightly tricky at first as you will need to barre across all three at once. You can then use your fretboard hand to tap the remaining notes simultaneously.
You may find that some notes ring out louder than others. Experiment with applying a different amount of force with each finger to try to get an even sound. Personally I find I have to tap more softly with my picking hand.
A minor
A minor 7
A Major
A Major 7
A Diminished
A Augmented
Once you start getting to grips with these chords for 7 string guitar you can start to experiment with creating other chord types. For instance, we haven't looked at 6/13 extensions. Try to incorporate one or more of these into a chord progression and you'll soon get used to the different fingerings.
Downloads for Syndicate Members:
Patrons can download the guitar pro tab for this lesson – click the image below to unlock.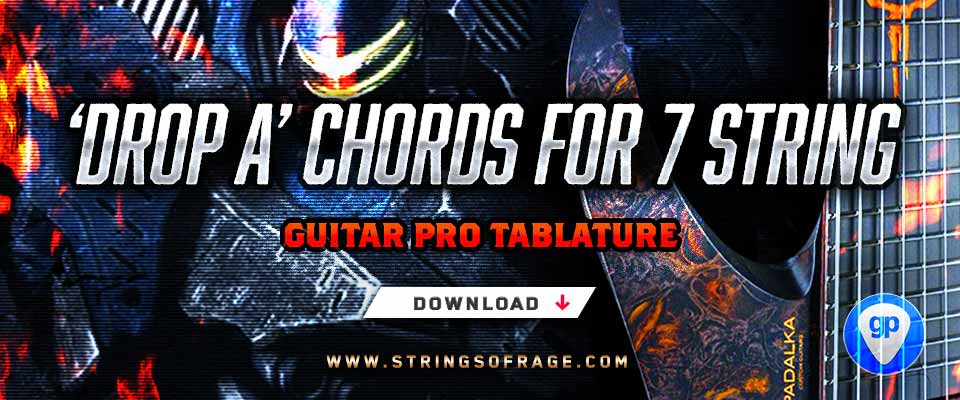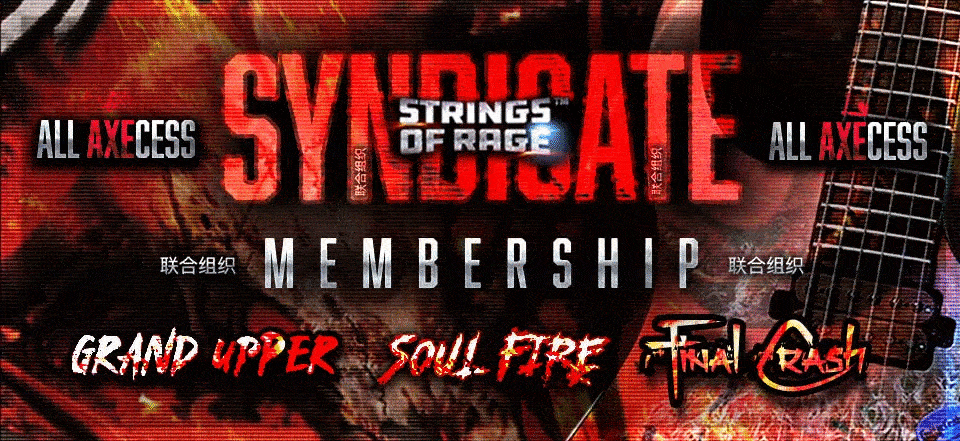 Join The Strings of Rage Syndicate!
Take your guitar playing to the next level. Join the community for exclusive new lessons, ideas and over the top guitar creativity! We look forward to seeing you around!