Understanding the differences between the scales and modes can feel like a daunting task. What makes a scale Major or Minor? Why do we get different chords from different scales? Understanding the intervals which make up each scale or mode can help. One way to do this is to learn the scales across a single string so that you can more easily see the distances between notes.
In this post we're going to look at 11 different scales/modes, all starting from the root note A. We'll play these single string scales on the A string to keep things simple. Moving these patterns to other strings will give you different key centers as will moving the patterns up the fretboard. We'll start by looking at all twelve intervals in relation to the note A: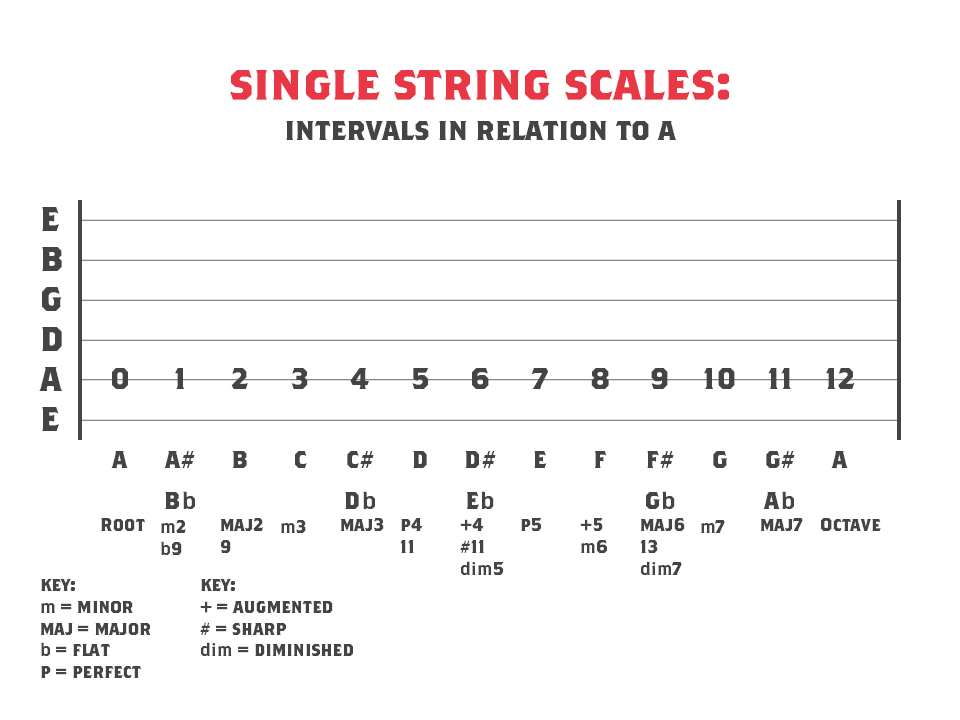 As you can see in the above diagram we have all twelve notes. Underneath are the interval names. Note that some intervals have two or three names. For example an Augmented 4 can also be called a Diminished 5. The naming will often depend on the context of what key you are in.
Lets look at the scales/modes and you'll see how the different intervals are used to create each one…
A Major Scale (A Ionian)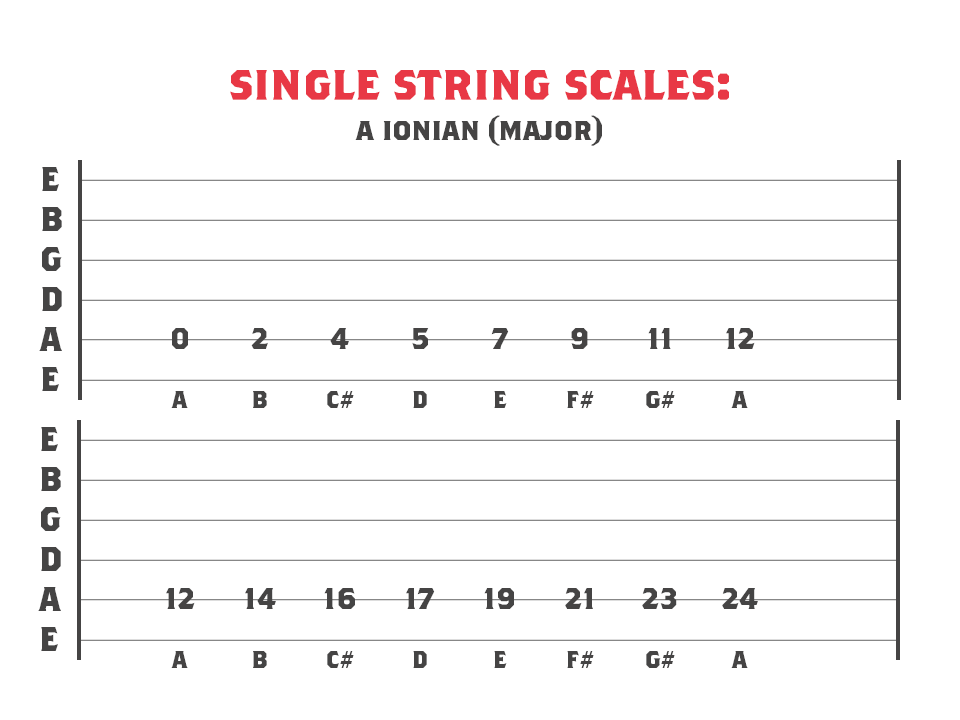 Here is the A Major scale (Ionian mode) played on the A string in two Octaves. I've repeated the A note at the twelfth fret on the tab so you can more clearly see where the scale starts and ends in each bar.
If we take the 1st, 3rd and 5th notes we get a Major chord triad, in this case AMaj (A-C#-E).
The notes in A major are A-B-C#-D-E-F#-G#-A. We have a Root, Major second, Major Third, Perfect Fourth, Perfect Fifth, Major Sixth, Major Seventh and then the Octave. Try to get comfortable with what these intervals are and how they relate to the root note. Then the construction of other scales and modes will start to make more sense. For example…
A Dorian
The Dorian mode has a minor third instead of a major third. It also has a minor seventh instead of a major seventh. Here it is as a single string scale shape: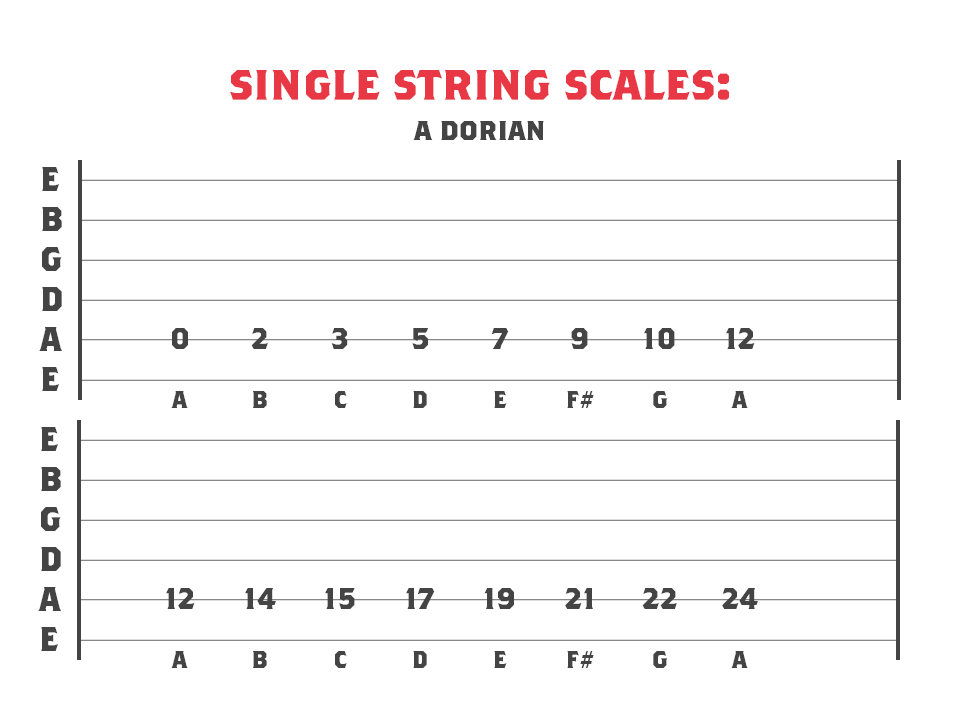 Dorian is considered to be a minor mode because of the minor third interval. If we look at the 1st, 3rd and 5th notes of the mode we get a minor chord triad. In this case Am (A-C-E). Lets look at the next mode and see how it differs…
A Phrygian
The Phrygian mode is also a minor mode. Like Dorian it has a minor third and a minor seventh. It also has a minor second and a minor sixth.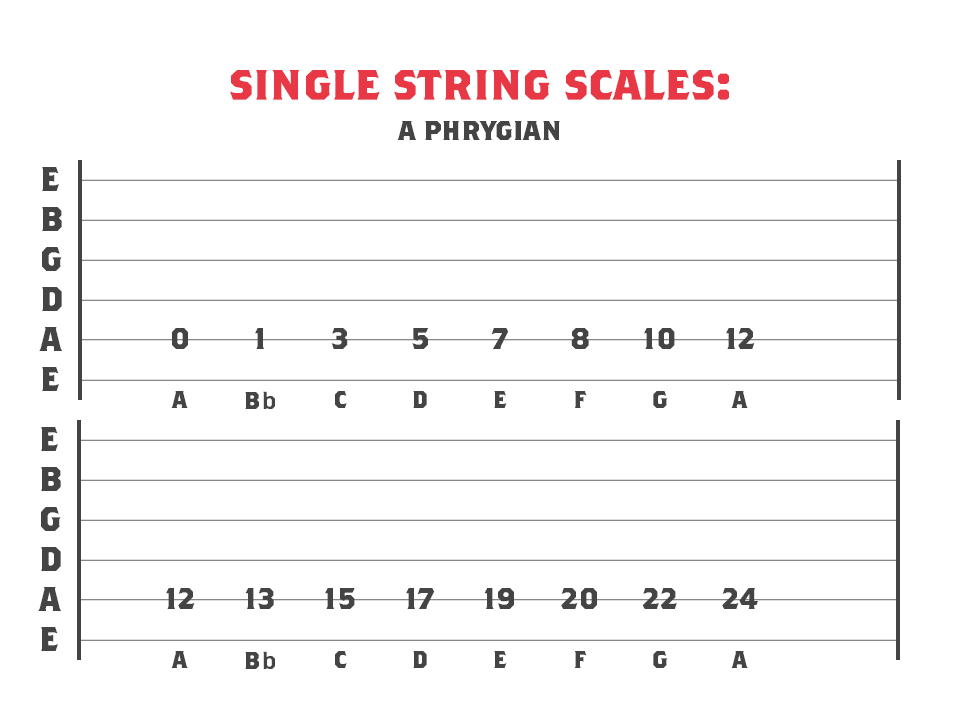 This mode also gives us a minor chord triad if we look at the 1st, 3rd and 5th notes. Once you start to look at more complex chords you will see how different modes yield different chord types. For example if we add the 7th and 9th notes we get Am7(b9), where Dorian would have given us Am9. (Note that a 9th is the same as a 2nd but usually played in the next octave).
A Lydian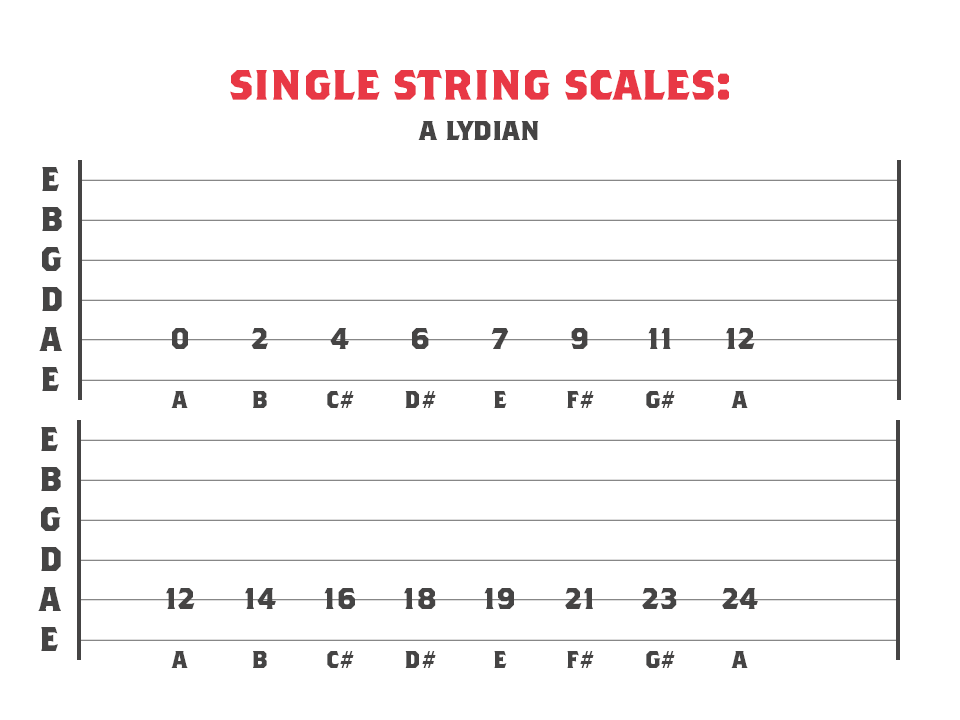 The A Lydian mode is a Major mode. It has the same intervals as the Ionian mode (the Major Scale) except that the 4th has been raised from a Perfect Fourth to an Augmented Fourth. (Augmented is sometimes written using a '+' symbol). This interval is sometimes called a sharp 4 (#4) or sharp eleventh in the context of chords.
The Lydian mode give us a Major chord triad just like the Ionian mode. This is because of the Root, Major Third and Perfect Fifth. However if we add an Eleventh to our chord we get A(Add#11). If we include the 7th as well we get AMaj7(#11). The Ionian mode would produce an AMaj11 chord.
A Mixolydian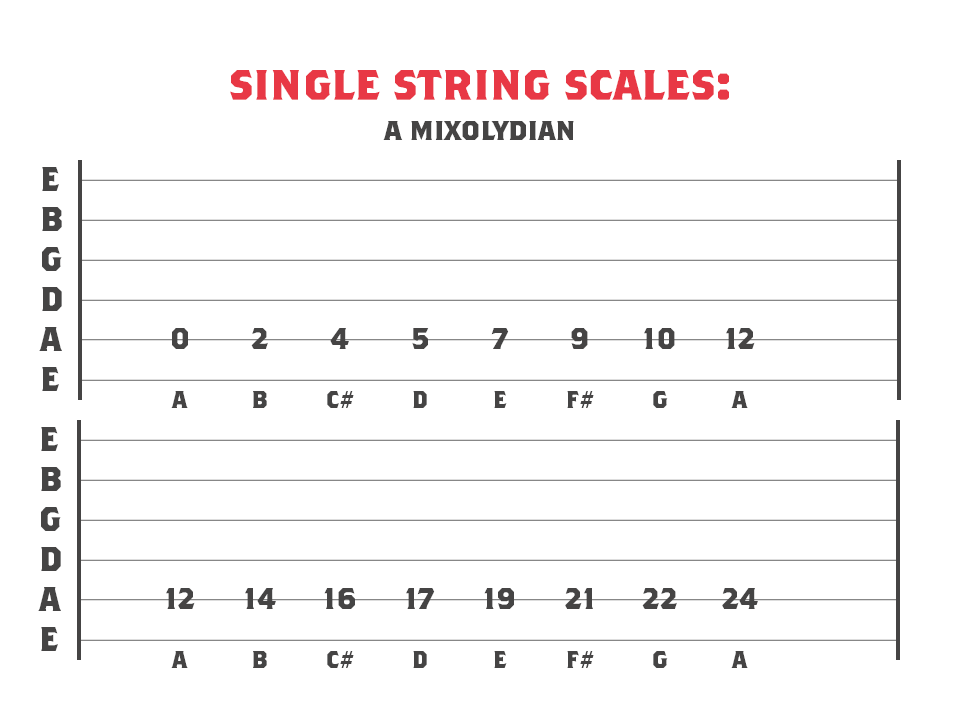 The Mixolydian mode is another Major mode. It has a Root, Major Third and a Perfect Fifth so we can derive a Major chord triad like the Ionian and Lydian modes. Mixolydian differs from these however in that it has a Minor Seventh interval. This means that if you build a seventh chord from the mode you get a "Dominant 7 chord", in this case A7. (Root, Major Third, Perfect Fifth, Minor Seventh). Hopefully this single string scale shape will help you to see the difference between a Major 7 and Dominant 7.
A Minor (Aeolian)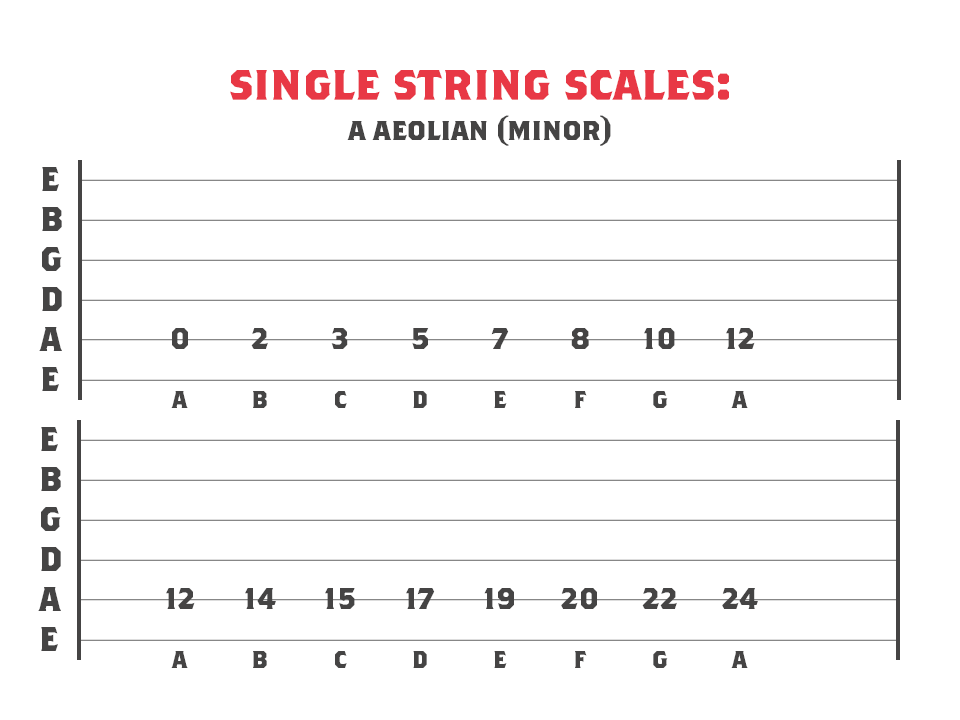 The Aeolian mode, more commonly called the Natural Minor scale, is a minor mode (Obviously). This is very similar to Dorian except we have a Minor Sixth instead of a Major Sixth. This is probably the easiest scale to learn as there are no '#' or 'b' notes.
A Locrian
The final mode which comes from the Major scale is Locrian. This mode is different from the previous six in that it has a Diminished Fifth. If we take the First, Third and Fifth notes we get a Diminished Chord triad (A-C-Eb). It also contains a Minor Seventh so we can extend this chord to get a "Minor Seven, Flat Five" or "Half Diminished" chord, i.e Am7b5. (A-C-Eb-G).
A Harmonic Minor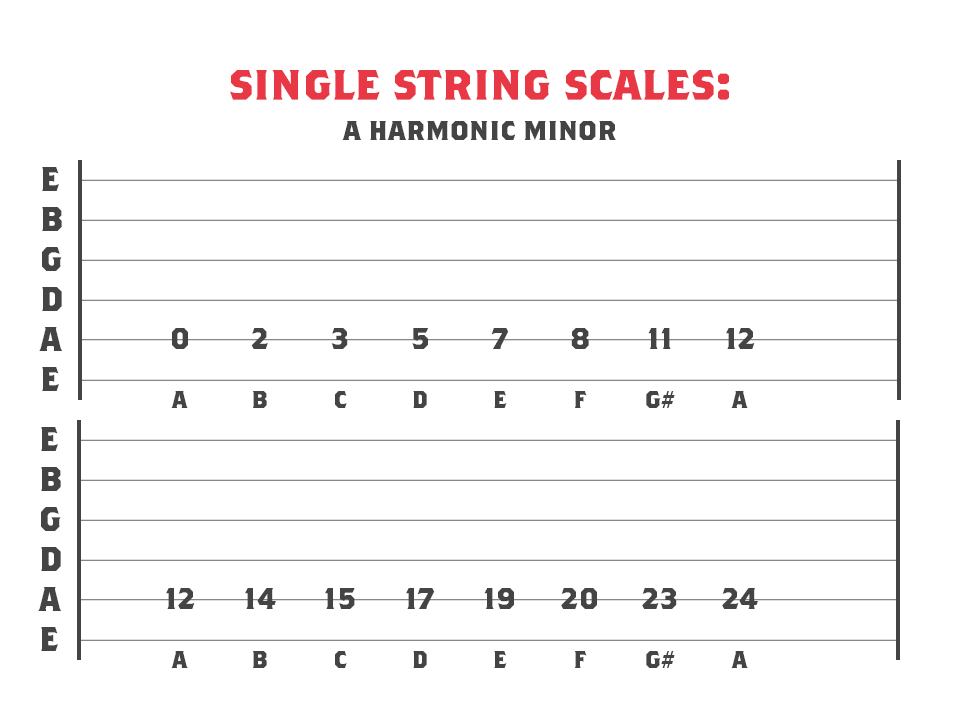 A Harmonic minor is a Variation of the Aeolian mode, often used in Classical and Baroque music. It uses the Same notes as Aeolian except that we raise the Seventh from a Minor Seven to a Major Seven. This creates a gap of a Minor Third between the Sixth and Seventh notes. You can then derive more modes from this scale such as Phrygian Dominant. To keep things fairly simple we won't go in to that for now.
If we form a Seventh chord from this scale we would get a "Minor (Major Seven)". In this case Am(Maj7). The name sounds a little scary and complicated but its just an Am triad with a Major Seven added. (A-C-E-G#). Using this scale can give you a "neoclassical" sound. Similar to that made popular by Yngwie Malmsteen. You can also use it to get a sort of Ancient Egyptian type of sound.
A Melodic Minor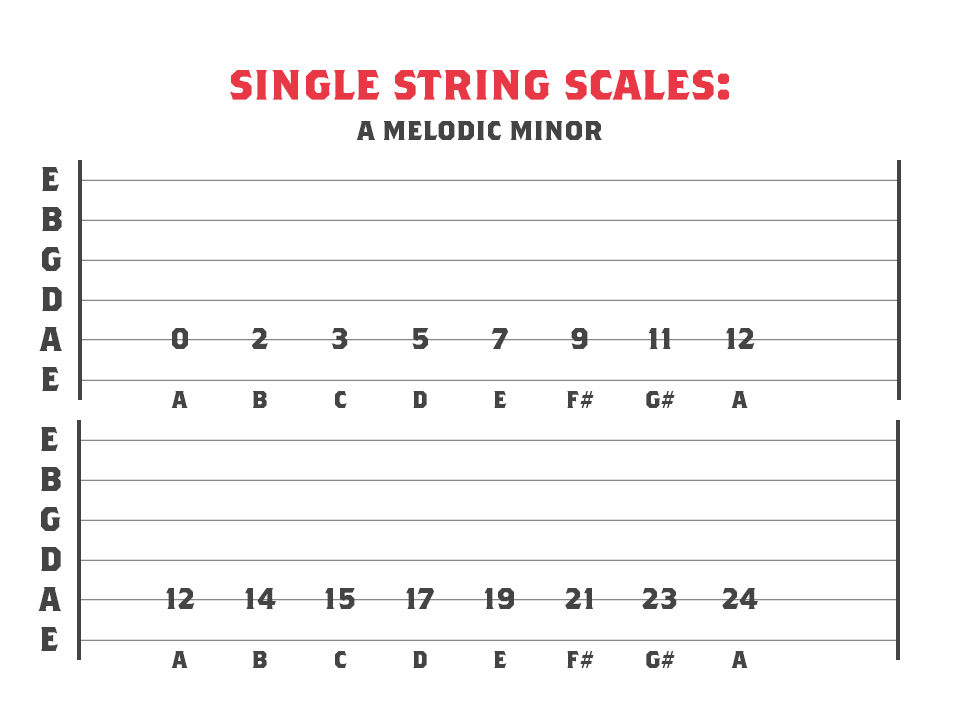 The Melodic Minor Scale was developed from the Harmonic minor scale. In order to reduce the large m3 gap between the sixth and seventh notes the sixth is raised from a Minor Sixth to a Major Sixth. By looking at the single string scale pattern you can see the raised 6 on the 9th fret. This Scale is used quite often in Jazz. We still get an Am(Maj7) chord from this, however we can also form an Am6 chord.
A Neapolitan Minor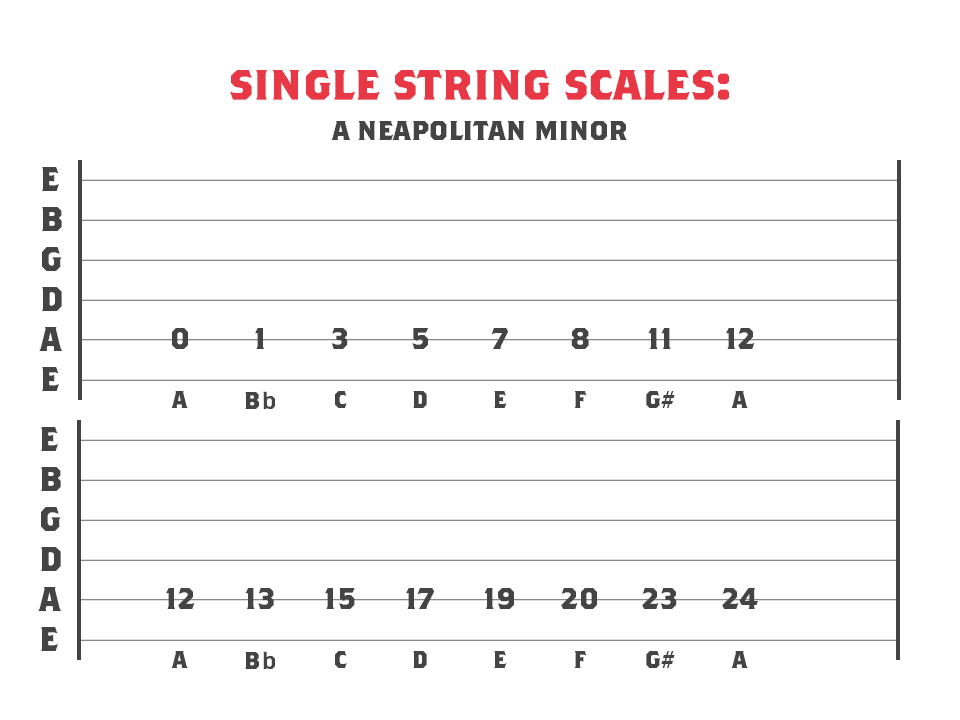 The Neapolitan Minor scale has a very interesting sound. Again it is derived from the Harmonic Minor scale except that now we have lowered the Second note. This means the is only a semitone between the First and Second Notes and also the Seventh and the Octave. If we play the Seventh, First and Second notes we get a short chromatic sequence. E.g G#, A, Bb.
A Hungarian Minor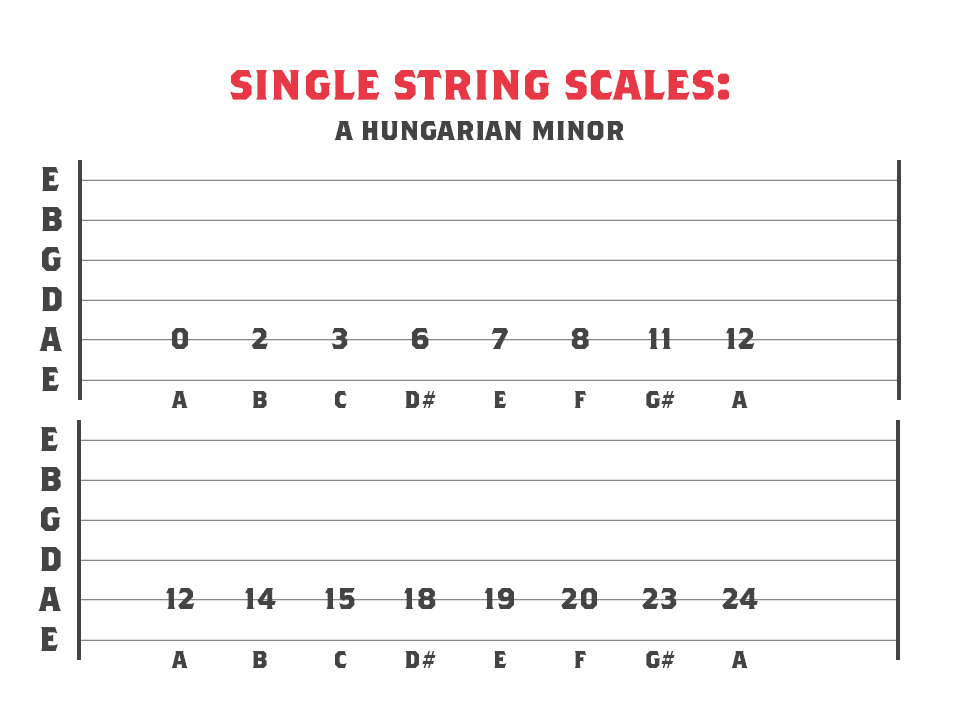 Finally we'll look at Hungarian minor as a single string scale. Again this is similar to the Harmonic Minor scale but this time we have raised the Fourth to an Augmented Fourth. Notice how the Augmented Fourth is the same pitch as a Diminished Fifth, however as it is the Fourth note of the scale we get a D# and call it Augmented Fourth rather than an Eb which we would call a Diminished Fifth (See the A Locrian mode for an example of a Diminished Fifth).
The raised Fourth means we have a chromatic sequence between the Augmented Fourth, Perfect Fifth and Minor Sixth. (D#, E, F).
Practicing the scales
A fun way to practice these single string scales is to alternate between the open string (The Root Note) and the other notes of the scale. Try out each different scale and you will start to get an idea of which intervals each one has and how each interval sounds against the root note. For example how a Diminished Fifth sounds in relation to the Root (Eb to A). Or the difference in feel that a scale has depending on whether it has a Minor or Major Third.
Below are a couple of improvised examples of how you can utilize these scales:
Footnote: The guitar used in the cover image is a Jackson Custom Shop Randy Rhoads Signature.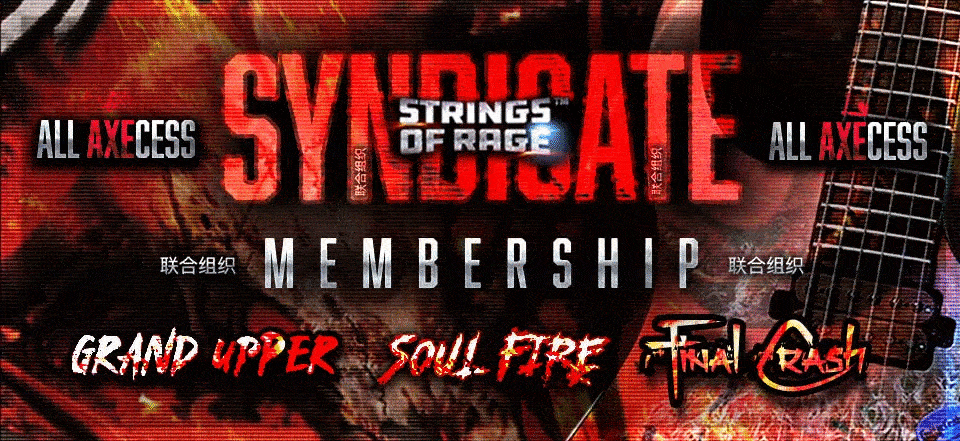 Join The Strings of Rage Syndicate!
Take your guitar playing to the next level. Join the community for exclusive new lessons, ideas and over the top guitar creativity! We look forward to seeing you around!